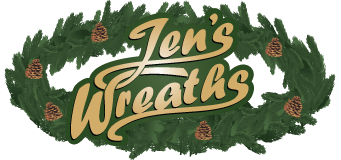 Fresh Christmas Wreaths
Handcrafted at our Farm
FREE Shipping & Gift Cards
Jen's Wreaths
33661 State Hwy. 46
Deer River, MN 56636
Text / Call Jen Direct at:
218-259-9515
Clearance - SOLD OUT
Jen's Wreaths is a busy place. Many times we have just a few styles of a particular bow leftover from a previous season. Sometimes, our suppliers send us the wrong ribbon and although, it may not be something we picked out, they offered us incredibly pricing, so we decided to keep it. Finally, we want to offer a handful of items at great prices! In our CLEARANCE christmas wreaths section, you'll find some great discounts and a little bit of everything!