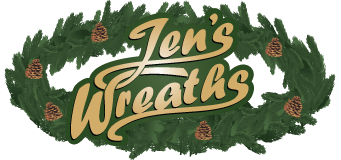 Fresh Christmas Wreaths
Handcrafted at our Farm
FREE Shipping & Gift Cards
Jen's Wreaths
33661 State Hwy. 46
Deer River, MN 56636
Call Jen Direct at:
218-246-3146
Count Your Blessings One By One

Welcome To Jen's Wreaths!

About Jen's Wreaths

A lot has changed in the past 20 years. Jen's Wreaths has grown from a few dozen wreaths in the back of a pickup to our present day status of shipping hundreds of wreaths from coast to coast. We've expanded our product line of balsam fir products over the years and improved the user-friendliness of our website. However, some things have remained the same. We are still a hard-working family, handcrafting each and every wreath at our farm. We oversee the entire process, to assure you of a wreath with excellent quality. Our standards haven't changed! You'll find personable customer service and flexibility to meet your needs. We still strive to provide every one of our customers with a quality wreath at a reasonable price. Located in snowy north central Minnesota, we're ideally situated to provide you with the freshest balsam fir. Careful planning takes place all year around, to give you the freshest product possible. As winter approaches, so does "Wreath Season" in our household. Conversations around the dinner table turn to the task at hand. We look forward to the hustle and bustle. Each year we find several returning faces, resulting in Jen's Wreaths having an experienced wreath making staff of friends and family.

About Sam & Jenny McFadden, Owners

When purchasing our farm at auction in 2003, we had no idea of the adventure that awaited us. Newlyweds with an entrepreneur mindset, we set out to put our farm to use. Gardening/Farming in the summer, Christmas Wreaths in the winter, and full-time jobs on the side. Several outbuildings on the property have provided us with ample manufacturing space. We have been incredibly blessed. Life has changed a lot in a short amount of time. We're also now completely self-employed with a home office. After taking the 2017 year off, we are excited to be back to serve you this season.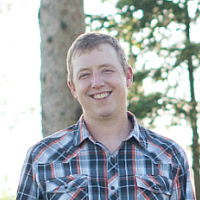 Sam's Bio
Growing up in Southwestern Minnesota provided Sam with ample farming experience. Whether it's collecting model farm toys or plowing the present-day field, farming is in his blood. He is also an experienced machine operator and logger. Owning his own cut-to-length harvesting system is yet another aspect of daily life. On a lighter note, Sam enjoys reading, teaching, and a good wrestling match with the kids!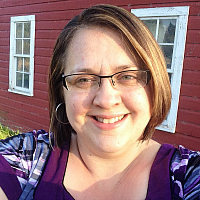 Jen's Bio
A lifelong resident of Northern Minnesota, Jenny grew up making wreaths as a kid. She has a business degree from the College of St. Scholastica and lots of design experience. Now an official stay-at-home mom, she is able to put her creativity to use designing balsam fir wreaths. On a quiet day, a trip to the beach, casting a line in the water, or just a walk in the woods is greatly enjoyed.