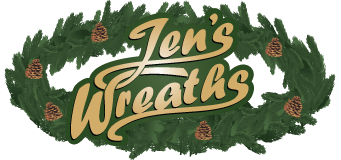 Handcrafted Christmas Wreaths
from the
Northwoods of Minnesota
McFadden Enterprises, LLC.
Jen's Wreaths
33661 State Hwy. 46
Deer River, MN 56636
Call Jen Direct at:
218-246-3146
Puppy Joy (Basic) - SPECIAL SALE 10% Coupon Code Inside
JW1183
QTY:
Wreath Hanger Option:
Mixed Green Option:

SOLD OUT!

Quantity not available. 7 in stock.
FREE Shipping & Handling
Product Features

Save 10% on this wreath with coupon code: puppy

(Also all wreaths will be automatically upgraded during this special offer to our traditional layout with 3 Natural Ponderosa Cones & Red Berries to help compliment our Puppy Joy Print Bow.)

This wreath is the ultimate gift for an animal lover. This beautiful bow says it all, it's pure PUPPY JOY! Additional decorations can be added if you feel more customization is necessary.

Shipping to the lower 48 states is included in this price.

Alaska & Hawaii zip codes can take up to 4 weeks for delivery via USPS Parcel Post & incur a $24 per item surcharge.

Call for USPS Priority Mail rates to AK, HI, & Virgin Islands.

Weight: About 4 Pounds
Diameter: 24" (can vary up to 2")
Qty. 1
Made in Minnesota